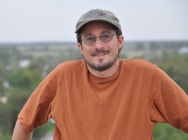 Biography
I have lived and created in Brooklyn, NY for many years.

I studied art at the New School in NYC, then earned my MFA in sculpture from Pratt Institute.
Some years later I began teaching art to both emotionally disturbed and visually impaired children at the New York Institute for Special Education.
I earned my MA in Art Therapy at NYU, to enhance that work.
Since leaving the school I have begun working with older adults with Alzheimer's and other dementias.
I have exhibited work in NYC and in Peekskill,NY.
Currently I am creating outdoor sculptures as well as projects such as pot racks and "wrought iron" signs. I recently created an eternal light.
MFA Sculpture, Pratt Institute 1977
MA Art Therapy, NYU 1993
Licensed Creative Art Therapist, New York State
Exhibitions:
Public Sculpture:
Nature in Balance Peekskill,NY
Art Exhibitions:


Gallery JJenth, Peekskill,NY 2001


OIA Salon Y2-Kaotic NYC,NY 2000


Solo Exhibit
Inside/Outside/Inside
Creative City Gallery Peekskil NY 1997


OIA Salon Show
Westbeth Gallery
NYC,NY 1997


Human Condition II
Group exhibit Peekskill, NY 1997


Collections:

"Mandala II"
Phoebe Frackman
Connecticut, USA


"Mandala III" and "Octisquare II"
Jerry and Arlene Doniger
Deerfield Beach, Florida, USA


Commissions:
"Spirit Man", Steel sculpture
Stuart Feinglas
Boulder Colorado, USA


David Tykulsker/ Deborah Schwartz, Brooklyn, NY, USA
(brass Sculpture fountain, 2005
OctiSquareIII